War of 1812 STATE HISTORIES
*This site contains Veterans Records at the end.
ALABAMA
SEE Pickett's History of Alabama:
Chapter 35
- Tecumseh -- Civil War Among The Creeks
Chapter 36
- Battle of Burnt Corn-- Arrival of Gen. Claiborne's Army
Chapter 37
- Terrible Massacre at Fort Mims
Chapter 38
- Daring of Heaton-- Bloody Scenes-- Gaines and the Choctaws
Chapter 39
- Battles of Tallasehatchie, Talladega and Auttose
Chapter 40
- Remarkable Canoe Fight-- Battle of Holy Ground-- March to Cahaba Old Towns
Chapter 41
- Battles of Emucfau, Enitachopco and Calbec
Chapter 42
- Battle of the Horse-Shoe -- Weatherford Surrenders Himself at Fort Jackson
Chapter 43
- Treaty of Fort Jackson -- Attack upon Mobile Point-- March upon Pensacola
Chapter 44
- The British Take Mobile Point-- Peace Declared -- The Alabama Territory
Chapter 45
- Modern French Colony in Alabama, or the Vine and Olive Colony
Chapter 46
- Last Territorial Legislature -- State Convention
Chapter 47 - The First Legislature of the State of Alabama -- Governor Bibb
Also See: Henry Sale Halbert, Timothy Horton Ball - 1895 - Creek War, 1813-1814 Here
CONNECTICUTT-
Connecticutt's wartime governors, Roger Griswold who died in 1812, Jonathan Trumball and John Cotton Smith refused to send militia outside of their state. Connecticutt (New England) was subjected to a British blockade and ill equipped to defend itself from British who provisioned their fleet by plundering coastal towns. The blockade, however, did not deter American privateers, a majority of whom came from New England and the Middle States from wrecking havoc upon British ships and shipping. It was construction of ships in Essex, Connecticutt which made this town the target of what proved to be the second most destructive raid wrecked upon any town or city in the United States during the War of 1812. Only the losses sustained byWashington, D.C exceeded those sustained by Essex.
.
The Great Attack
Essex is one of the few American towns to ever be attacked by a foreign power; this occurred on April 8, 1814, and the economic losses were among the largest sustained by the United States during the War of 1812. Twenty eight vessels, with a total value estimated to be close to $200,000 (at a time when a very large two story home in Essex would have been worth no more than $1,000), were destroyed by the British.[1] One historian has called it the "Pearl Harbor" of that war.[2]
On that date, approximately 136 British marines and sailors under the command of Richard Coote[1] (or Coot[2]) rowed six boats from four British warships anchored in Long Island Sound, six miles up the Connecticut River, past the unmanned fort in Old Saybrook, arriving at the boat launch at the foot of Main Street in Essex close to 4 A.M. The boats were armed with swivel guns loaded with grapeshot, the officers armed with swords and pistols, the marines with "Brown Bess" muskets, and the sailors with torches and axes; they responded to the single cannon fired by the town's surprised defenders with a massive volley, neither side incurring any casualties. They quickly commandeered the town, eliciting a promise of no resistance from the Essex militia in return for promising not to harm the townspeople or burn their homes, while a messenger rode to Fort Trumbull in New London for help. A dubious local myth states that Coote did not burn the town as a favor to a local merchant who greeted him with a secret Masonic handshake.[2]
The British marched to the Bushnell Tavern (now the Griswold Inn), then seized the town's stores of rope (each ship of that time requiring eight miles of rope) and, according to the April 19, 1814 Hartford Courant, "$100,000 or upwards" worth of rum (acquired from the East Indies in trade for beef and wood from Connecticut).[2]
Their main targets, however, were the newly constructed privateers in the harbor, ready or nearly ready for sail, which they burned. Within six hours, their mission was accomplished, and the British went downstream with two captured ships in tow, including the Black Prince, a vessel that may well have primarily inspired the raid.[1] Stranded in the river by low tide, they were forced to wait at the extreme range of the shots of the volunteers from the nearby town of Killingworth who lined the riverbanks; two marines were killed and the captured ships had to be destroyed, but the rest of the men escaped safely when the tide turned.[1][2]
At the time of the raid, Essex (then known as Potopaug)[2] had been a major center of shipping and shipbuilding, but was suffering under a blockade by the British; as a result, the privateers were being constructed. Captain Richard Hayden, a prominent shipbuilder, had advertised his Black Prince in a New York City newspaper as "a 315 ton sharp schooner that would make an ideal privateer." This may have caught the attention of the British, who then investigated Essex and launched the successful raid.[1] Perhaps as a consequence of the practical, but somewhat less than heroic, response of the town to the raid, shortly afterwards, the name of the town was changed to Essex.[2]
Stonington honors the successful defense of the town against British warships during the War of 1812 with a granite monument.
The 1830 obelisk, topped with a naval shell, stands in the borough of Stonington's Cannon Square. An inscription on the monument's north face reads, "These two guns of 18 pounds caliber were heroically used to repel the attack on Stonington of the English naval vessels Ramilies, 74 guns, Pactolus, 44, Dispatch, 20, Nimrod, 20 and the bomb ship Terror. August 10, 1814."
The monument's north face also contains the Latin inscription "In perpetuam rei memoriam" (In everlasting remembrance of the event).
The monument's south face honors "the defenders of the fort," and lists the names of 10 residents who presumably manned the cannons during the English attack.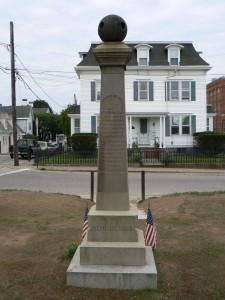 The monument commemorates the defense of Stonington during a British naval bombardment that lasted between August 9-12, 1814. A group of five British warships anchored off Stonington and shelled the city. No lives were lost in the attack, but 40 local buildings were damaged.
The two cannons flanking the monument were returned to the monument site on Tuesday, August 3, after a two-year restoration at Texas A&M. The 18-pounder cannons, cast at West Point Foundry in the 1780s, will be rededicated in ceremonies Saturday.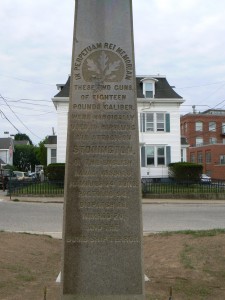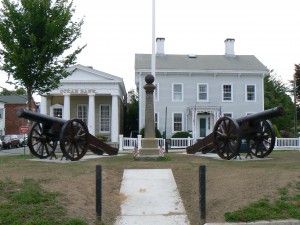 SEE HARTFORD CONVENTION-OPPOSITION TO WAR
One cannot appreciate the intense opposition that developed without referencing the embargoes that preceded the declaration of war in June 1812. While some historians and writers point to multiple causes of the war ("The Second War of Independence"), the cause of the war is simple and straightforward. For years, Great Britain and France were embroiled in war with one another, evolving into the Napoleonic Wars. Each country objected to and interdicted neutral shipping headed to or near their enemy. Britain promulgated their policies and practices to address the problem in what became known as orders in council. Napoleon issued decrees for the same purpose. The interference became intolerable by 1808, forcing President Thomas Jefferson to act. He thought one war enough for one man, so, in order to protect United States vessels and sailors, he had his majority Democratic-Republican party in Congress impose an embargo on American shipping. The embargo had a profound unintended effect. Instead of bringing Britain and France to their senses, it depressed American sea-borne commerce. No place suffered more than New England, where a single-minded pursuit of seafaring formed the basis of the economy. Banks closed; mariners and sailors were thrown out of work; poorhouses could not handle the need; and commerce dropped off as much as 90 percent. New England politicians, editors, and merchants railed against the embargo, derisively referring to it as "O-grab-me." More important, New England did not forget Jefferson's embargo, a policy adopted by his successo, James Madison.

When embargo failed to remedy the situation and Great Britain refused to rescind the orders in council and France continued its decrees, Madison and his fellow Democratic-Republicans felt compelled to act.Henry Clay and John Calhoun pushed a declaration of war through Congress, stressing a short war had the added benefit of permitting the United States to grab valuable farmlands in the British colony of Canada. Vehement protests erupted in those parts of the country where the opposition Federalist political party held sway, especially in Connecticut and Massachusetts. The governors of these two states as well as Rhode Island refused to place their state militias under federal control for duty outside of their respective states. In the elections that followed in a few months, some members of Congress who voted for war, paid the ultimate price. Eight New England congressmen were rejected by the voters, and several others saw the writing on the wall and declined to seek reelection. There was a complete turnover of the New Hampshire delegation.
As the war continued, New England Federalists maintained their opposition. But this is not to say the region as a whole opposed the national war effort. Much of the financing and a substantial portion of the army and navy came from the region. Elbridge Gerry, the Vice President, and William Eustis, the secretary of war, hailed from Massachusetts. A top army general, Henry Dearborn, came from New Hampshire, and illustrious naval officers such as Isaac Hull, Charles Morris, and Oliver Hazard Perry were New Englanders. As important, New England sent more officially sanctioned privateers to sea than other areas.
The Federalists had no control of national policy, however. As the war dragged on, they grew increasingly frustrated. Eventually, some in New England, began to advocate constitutional changes that would increase their diminished influence at the national level. The often misunderstood Hartford Convention, with 26 delegates from Massachusetts, Connecticut, Rhode Island, and dissident counties in Vermont and New Hampshire
New Hampshire, was held in December 1814 to consider remedies. It was called to discuss proposed Constitutional amendments. Its final report called for several Constitutional amendments. However, when convention representatives arrived in Washington to advocate their changes, they were greeted with news of a peace treaty with Britain, the Treaty of Ghent, which essentially restored the pre-war status quo. This undercut their position, leaving them with little support. They returned home, and the decline of the Federalist Party picked up speed.
While a sense of patriotism offered support for the war, outside of Federalist strongholds, as the war dragged on and the U.S. suffered frequent reversals on land, opposition to the war extended beyond Federalist leaders. As a result, the pool of army volunteers dried.
For example, after the British seized Fort Niagara and sacked the town of Lewiston, New York, General George McClure tried to call up the local militia to drive them back, but found that most would not respond, tired of repeated drafts and his earlier failures. Even those who did appear, McClure wrote, were more interested "in taking care of their families and property by carrying them into the interior, than helping us to fight."[1]
This was shown in national recruitment efforts as well. While Congress authorized the War Department to recruit 50,000 one-year volunteers, only 10,000 could be found, and the Army never reached half of its authorized strength. A national conscription plan was proposed in Congress, but defeated with the aid of Daniel Webster, though several states passed conscription policies. Even Kentucky, home state of the best-known war hawk Henry Clay, was the source of only 400 recruits in 1818. It was not until the war was concluded that its retrospective popularity shot up again.[2]
Many members of the Democratic-Republican Party viewed opposition as treasonous or near-treasonous once war was declared. The Washington National Intelligencer wrote that, "WAR IS DECLARED, and every patriot heart must unite in its support." The Augusta Chronicle wrote that, "he who is not for us is against us."[3]
This sentiment was especially strong in Baltimore, at the time a boomtown with a large population of recent French, Irish, and German immigrants who especially hated Britain. In early 1812, several riots took place, centering around the anti-war Federalist newspaper the Federal Republican. Its offices were destroyed by a mob. Meanwhile, several Black people thought to be sympathetic to Britain were assaulted. Local and city officials, all war hawks, expressed disapproval of the violence, but did little to stop it.[4] When the editors of Federal Republican tried to return, they were removed from protective custody in a jail by a mob, on the night of July 27, and tortured; one, Revolutionary War veteran James Lingan, died of his injuries. Opponents of the war then largely ceased to openly express their opposition in Baltimore.[5]
The War of 1812 was the first official war fought by the United States, as the U.S., and so was the first to develop widespread antiwar sentiment. There is little direct continuity between the opponents of the war of 1812 and later antiwar movements, as the antiwar Federalist Party collapsed soon after the end of the war. However, the war did result in the formation of the New York Peace Society in 1815 in an effort to prevent similar future wars. The New York Peace Society was the first peace organization in the United States, lasting in various incarnations until 1940. A number of other peace societies soon formed, including eventually the American Peace Society, a national organization which exists to the present day. The American Peace Society was formed in 1828 by the merger of those in New York, Maine, New Hampshire, and Massachusetts.[6]
The War of 1812 is less well known than 20th-century U.S. wars, but no other war had the degree of opposition by elected officials. Nevertheless, historian Donald R. Hickey has argued that, "The War of 1812 was America's most unpopular war. It generated more intense opposition than any other war in the nation's history, including the war in Vietnam."[7]
Notes
[edit] References
MARYLAND: Guide to Records in Maryland Archives and extnesive bibliography. Please See, See Also Maryland: Prelude to War, Annotated Chronlogy of War and Marylanders during the War
Stevenson Archer (1786-1848)

U.S. Representative, 1811-17, 1819-21
Paymaster, 40th Maryland Militia
Chief Judge, Judicial Circuit for Baltimore City & Baltimore & Harford counties, 1823-44
Chief Judge, Court of Appeals, 1844-48

George Armistead (1780-1818)

Lt. Colonel, U.S. Army
Commanding Officer, Fort McHenry, 1813-18

Charles Ball (1781-unknown)

Escaped slave
Served as cook, Chesapeake Flotilla

Joshua Barney (1759-1818)

Commodore, U.S. Navy
Commanded flottila defending Chesapeake Bay

William Beanes (1749-1828)

Physician captured by British while arresting English stragglers
Release from custody postponed until completion of assault on Fort McHenry

Thomas Boyle (1776-1825)
Stephen Decatur (1779-1820)
Jesse Elliott (1782-1845)
Charles Goldsborough (1765-1834)

U.S. Representative, 1805-17
Governor of Maryland, 1818-19

Robert H. Goldsborough (1779-1836)

U.S. Senator, 1813-19, 1835-36
Cavalry officer, Maryland Militia

Alexander Contee Hanson (1786-1819)

U.S. Representative, 1813-16
U.S. Senator, 1816-19

Edward Johnson (1767-1829)

Member, Baltimore City Council, 1797-1803
Mayor of Baltimore, 1808-16, 1819-24

Joseph Kent (1779-1837)

Surgeon, Maryland Militia, 1809
U.S. Representative, 1811-15, 1819-26
Governor of Maryland, 1826-29
U.S. Senator, 1833-37

Francis Scott Key (1779-1843)

Present at shelling of Fort McHenry, wrote poem, "The Star Spangled Banner"

Peter Little (1775-1830)

U.S. Representative, 1811-13, 1816-29
Colonel, 38th Maryland Infantry, 1813-15

Alexander McKim (1748-1832)

U.S. Representative, 1809-15

Nicholas Ruxton Moore (1756-1816)

U.S. Representative, 1803-11, 1813-15
Lt. Colonel, 6th Regiment Cavalry District of Maryland

John O'Neill (1769-1838)

Lieutenant, Maryland Militia
Commanded defense of Havre de Grace, May,1813

Mary Pickersgill (1776-1857)

Sewed "Star-Spangled Banner" for Fort McHenry

Philip Reed (1760-1829)

U.S. Senator, 1806-13
Lt. Colonel, 21st Regiment, Maryland Militia
Commanding officer, Battle of Caulk's Field, Aug., 1814
U.S. Representative, 1817-19, 1822-23

Samuel Ringgold (1770-1829)

U.S. Representative, 1810-15, 1817-21
Brig. General, Maryland Militia

George Roberts (unknown-1861)

Impressed sailor, later served abord Chasseur

John Rodgers (1772-1838)
James Sewall

Major, Maryland Militia
Commanding officer, Fort Defiance, Elkton, 1813

John Stuart Skinner (1788-1851)

U.S. Agent for Prisoner Exchange with England
Accompanied Francis Scott Key to arrange release of Dr. William Beanes

Samuel Smith (1752-1839)

U.S. Representative, 1793-1803, 1816-22
U.S. Senator, 1803-15, 1822-33
Maj. General, commanded defense of Baltimore, Sept., 1814

John Stricker (1758-1825)

Collector, Port of Baltimore, 1801-10
Brig. General, Maryland Militia
Commanding officer at Battle of North Point, Sept., 1814

Philip Stuart (1760-1830)

U.S. Representative, 1811-19
Served in Maryland Militia

Nathaniel Towson (1784-1854)
James Wilkinson (1757-1825)

Maj. General, U.S. Army
Led Montreal campaign, Canada, 1813

James Winchester (1752-1826)

Brig. General, U.S. Army
Commanding officer at Battle of Frenchtown, present-day Michigan

Levin Winder (1757-1819)

Governor of Maryland, 1812-16

William Henry Winder (1775-1824)
Robert Wright (1752-1826)

U.S. Senator, 1801-06
Governor of Maryland, 1806-09
U.S. Representative, 1810-17, 1821-23

Maryland University Library Digital Collection SEE here. See annotated Bibliography. Strongly recommend:
Eshelman, Ralph, Scott S. Sheads, and Donald R. Hickey. War of 1812 in the Chesapeake: a reference guide to historic sites in Maryland, Virginia, and the District of Columbia. Baltimore: Johns Hopkins University Press, 2010.
Garitee, Jerome R. The Republic's Private Navy: The American Privateering Business as Practiced Baltimore during the War of 1812. Middletown, CT: Wesleyan University Press, Published for Mystic Seaport, Inc., 1977.
Annotations / Notes: The British attack on Baltimore during the War of 1812 was motivated by a desire to punish the city for being a nest of republicans and privateers. This book traces in admirable detail the history of privateering - from the ships, outfitting, captains and crews, investors, their successes and failures, through the distribution of the prize money. While the pirates on the Spanish main may have been the dregs of the sea, Baltimore's privateers were underwritten by some of its leading mercantile and political leaders. The book includes useful appendices identifying the privateers, investors and proceeds
George, Christopher T. "Mirage of Freedom: African Americans in the War of 1812." Maryland Historical Magazine 91 (Winter 1996): 426-50.
Annotations / Notes: Black men fought for both the American and British forces during the War of 1812. For example, free blacks who constructed earthworks and black sailors in the U.S. Navy helped to deflect the British attack on Baltimore in 1814. Free blacks and slaves who decided to help the British hoped to secure freedom in return for their services.
Norton, Louis Arthur. Joshua Barney, Hero of the Revolution and 1812. Annapolis: Md.: Naval Institute Press, 2000.
Annotations / Notes: Joshua Barney (1758-1818) was a naval hero in both the American Revolution and the War of 1812. Aside from his military exploits, this patriotic Marylander's life is closely associated with the history of the American flag. Barney is best known for the spirited action of the barge men under his command at the Battle of Bladensburg in 1814. Alone among the Americans at the battle, Barney and his men fought bravely against a superior British force.
Wright, F. Edward. Best Source for History of Maryland militia War of 1812.
.


NORTH CAROLINA:
Lemmon, Sarah McCulloh North Carolina and the War of 1812 Raleigh, NC: State Department of Archives and History, 1971.
WASHINGTON
History of State of Washington begins with Lewis and Clark Expedition and Oregon Trail. SEE Site named Trailbrazers for Information about these.
Veterans Records
SOURCES – WAR OF 1812
A. Virginia. Auditor of Public Accounts. Muster Rolls of the Virginia Militia in the War of 1812,
Being A Supplement To the Pay Rolls Printed and Distributed In 1851. Copied From Rolls In
the Auditor's Office At Richmond. Richmond, W. F. Ritchie, Printer, 1852. E359.5 V8 V83

B. Virginia. Auditor of Public Accounts. Pay Rolls of Militia Entitled to Land Bounty Under the
Act of Congress of Sept. 28, 1850. Copied from rolls in the Auditor's Office at Richmond.
Richmond: W. F. Ritchie, Printer, 1851. E359.5 V8 V82

C. Heitman, Francis B. Historical Register and Dictionary of the United States Army from Its
Organization, September 29, 1789, To March 2, 1903. Washington, DC: The National Tribune,
1890.
D. Heitman, Francis B. Historical Register and Dictionary of the United States Army from Its
Organization, September 29, 1789, To March 2, 1903. Washington, DC: Government Printing
Office, 1903. Ref U11 U5 H6 1965

E. Heitman, Francis B. Historical Register and Dictionary of the United States Army from Its
Organization, September 29, 1789, To March 2, 1903. Washington, DC: Government Printing
Office, 1903. <http://www.gale.ancestry.com/>

F. Butler, Stuart Lee. A Guide to Virginia Militia Units in the War of 1812. Athens, GA: Iberian
Publishing Co., 1988. Ref E359.5 V8 B87

G. Peterson, Clarence Stewart. Known Military Dead During the War of 1812. Baltimore, MD:
Genealogical Pub. Co., 1995. MAIN E255 P48 1995

H. Huntsberry, Thomas V. Dartmoor Prison. Baltimore, MD: J. Mart, 1984. E362 H9
I. Carr, Deborah Edith. Index to Certified Copy of List of American Prisoners of War 1812-1815
as recorded in General Entry Book Ottawa, Canada. List of American Prisoners of War who
died at Princeton, Dartmoor, England. 1812-1815. Association of State Presidents, Past and
Present, and Charter Members, of the National Society, United States Daughters of 1812, 1924.
E362 C22

J. Morton, Oren F. A Handbook of Highland County and a supplement to Pendleton and
Highland history. Monterey, VA: Highland Recorder, 1922. Fiche 32 LH232 or F232 H8
K. Nottingham, Stratton. Revolutionary soldiers and sailors from Lancaster County, Virginia;
muster rolls and pay rolls of the Ninety-second Regiment of Virginia Militia, Lancaster County,
1812. Onancock, VA: S. Nottingham, 1930. F232 L15

L. Wingo, Elizabeth B. Norfolk County, Virginia (now City of Chesapeake, Virginia)
Revolutionary War and War of 1812 applications for pensions, bounty land warrants, heirs of
deceased pensioners. Norfolk, VA: E. Wingo, 1964. F232 N8

M. Tribute to Patriotism: Petersburg Volunteers, who embarked … in the war with Great Britain
on the 21st October 1812 … commanded by Captain Richard McRae … [list of soldiers],
survivors, 4th of July, 1849 … [S.I.: sn, 1849]. E356 M5 T7

N. Ivy, Dick. York Militia Faces British Again, 1812-1814: Others Guard the York Town
Ramparts. Yorktown, VA: York County Historical Committee, 1996. F232 Y6 Y84 1996
O. Ryan, James H. Duty and Honor: Petersburg's contributions to the War of 1812. Petersburg,
VA: Historic Petersburg Foundation, 2004. E359.5 V8 R93

P. Galvin, Eleanor Stevens. 1812 Ancestor Index Volume 1, 1892-1970: National Society United
States Daughters of 1812. Norcross, GA: Harper Printing, 1970. E351.6 A5 G3

Q. Trolinger, Patricia Scruggs. 1812 Ancestor Index Volume 2, 1970-1992, National Society United States Daughters of 1812. Marceline, MO: Wadsworth Publishing 1992. E351.6 A5 G3

R. Bentley, Elizabeth Petty. Virginia Military Records from the Virginia Magazine of History and
Biography, the William and Mary College Quarterly, and Tyler's Quarterly. Baltimore, MD:
Genealogical Publishing Co., 1983. MAIN F225 V892 1983

S. Musselman, Homer D. Stafford County, Virginia: Veterans and Cemeteries. Fredericksburg,
VA: printed by Bookcrafters, 1994. MAIN F232 S86 M983 1994

T. Moore, Robert H. The Charlottesville, Lee Lynchburg and Johnson's Bedford Artillery.
Lynchburg, VA: H. E. Howard, Inc., 1990. MAIN E581.8 C47 M8 1990

U. Lewis, Virgil Anson. The Soldiery of West Virginia in the French and Indian War; Lord
Dunmore's War; the Revolution; the Later Indian Wars; the Whiskey Insurrection; the Second
War with England; the War with Mexico, and Addenda Relating to West Virginians in the Civil
War. Baltimore: Genealogical Publishing Co., 1967. West Reference F241 L685

V. Wallace, Lee A. The Petersburg Volunteers, 1812–1813. Arlington, VA: J.C. Weaver, 1998.
E359.5 V8 W35 1998

W. Wallace, Lee A. The Petersburg Volunteers, 1812–1813. Arlington, VA: J.C. Weaver, 1998.
http://newrivernotes.com/va/pete1812.htm

X. Town of Cheektowaga, Erie County, New York. War of 1812 Cemetery.
http://members.tripod.com/~wnyroots/index-1812.html

Y. Lytle, Richard M. The Soldiers of America's First Army, 1791. Lanham, MD: Scarecrow Press, 2004. E83.79 L98 2004

Z. Butler, Stuart L. Real Patriots and Heroic Soldiers: General Joel Leftwich and the Virginia
Brigade in the War of 1812. Westminster, MD: Heritage Books, 2008. MAIN
Web Sites
http://en.wikipedia.org/wiki/1812_War and official US army and navy history websites: http://www.army.mil & http://www.history.navy.mil.
See Also: Guides the following GUIDES AND BIBILIOGRAPHIES
All available at Newberry Library
Guides and Bibliographies
Butler, Stuart L. "Genealogical Records of the War of 1812." Prologue 23.4 (Winter 1991). Available online
Resource Guide for the War of 1812. Los Angeles: Subia, 1979. Comp. John C. Fredriksen. Call # Local History Ref Z1240.F73
Free Trade and Sailors' Rights: A Bibliography of the War of 1812. Comp. John C. Fredriksen. Westport, CT: Greenwood, 1985. Call # Ref Z1240.F74 1985
Guide to Genealogical Research in the National Archives of the United States. Ed. Anne Bruner Eales and Robert M. Kvasnicka. 3rd ed. Washington, DC: National Archives and Records Administration, 2000. Call # Local History Ref Z5313.U5 U54 2000.
Encyclopedia of the War of 1812. Ed. David S. Heidler and Jeanne T. Heidler. Santa Barbara, CA: ABC-CLIO, 1997. Call # Ref E354.H46 1997 .
Neagles, James C. U.S. Military Records: A Guide to Federal and State Sources, Colonial America to the Present. Salt Lake City: Ancestry, 1994. Call # Local History Ref Z1249.M5 N43 1994 See lists of resources organized by state and also by conflict.
Register of Federal United States Military Records: A Guide to Manuscript Sources Available at the Genealogical Library in Salt Lake City and the National Archives in Washington, DC. Bowie, MD: Heritage Books, 1986. Call # folio CS68.R44 1986.
Research Outline: U.S. Military Records. Salt Lake City, UT: Family History Library, 1993. Call # Local History Ref CS68.C44 1993
Schweitzer, George K. War of 1812 Genealogy. Knoxville, TN: Geo. K. Schweitzer, 1983. Call # Local History Ref Z5313.U5 S31 .
Smith, Dwight L. The War of 1812: An Annotated Bibliography. New York: Garland Pub., 1985. Call # Ref Z1240.S65 1985
---
Military Service
Heitman, Francis. Historical Register and Dictionary of the U.S. Army. Urbana: University of Illinois Press, 1965. Call # Local History Ref U11.U5 H6 1965 (2nd floor open shelf). Reprint of 1903 edition. Lists officers who served in the War of 1812.
Index to Compiled Service Records of Volunteer Soldiers Who Served During the War of 1812. National Archives, 1965.
Peterson, Clarence Stewart. Known Military Dead During the War of 1812. Baltimore: C.S. Peterson, 1955. Call # Local History Ref E359.4 P48 1955 .
Register of the General Society of the War of 1812. Washington, DC: General Society of the War of 1812, 1972. Call # E351.3 A17 1972 1976 Supplement: Call # Local History Ref E351.3 A17 1972,
The Roster of the General Society of the War of 1812. Mendenhall, PA: General Society of the War of 1812, 1989. Call # E351.3 R68 1989.
---
Pension Records
Census of Pensioners for Revolutionary or Military Services. Washington: Printed by Blair and Rives, 1841. Compiled in 1840. Call # F83270.91. Lists names and ages of pensioners, along with names of their heads of households. Organized by state and county. Also available online.
List of Pensioners on the Roll, January 1, 1883. Washington: Government Printing Office, 1883. Call # Local History Ref E494.U55 1883
White, Virgil D. Index to War of 1812 Pension Files. Waynesboro, TN: National Historical Publishing Co., 1989. Call # Local History Ref E359.4 W45 1989 (2nd floor open shelf).
White, Virgil D. Index to Old Wars Pension Files 1815-1926. Waynesboro, TN: National Historical Publishing Co., 1993. Call # Local History Ref CS68.W477 1993
---
British and Canadian Soldiers
British Aliens in the United States during the War of 1812. Comp. Kenneth Scott. Baltimore: Genealogical Pub., 1979. Call # CS68.S33.